"Our youth orchestra programs give serious young musicians a chance to prepare orchestral selections and perform them at a high standard."

– Anton Kuerti, Artistic Director Emeritus
Over 120 players are divided into three orchestras, from ages 6 to 20, based on their playing abilities. A friendly, non-competitive atmosphere prevails. Full year tuition fee is $450 for Senior, $425 for Intermediate, and $375 for Junior orchestra players.  Tuition includes a free ticket to each of the youth orchestra performances.  New members are welcome and may join almost any time, if space is available and subject to an audition. (refer audition information below). The orchestras rehearse most Saturdays at Mooredale House in Rosedale.
Click here to register for 2022-23 on-line or download our PDF MYO 2022-23 form. If paying by cheque, please mail to Mooredale Youth Orchestras, 146 Crescent Road, Toronto M4W 1V2. If paying in cash, please call us at 416-922-3714 x103 to make arrangements for receipt.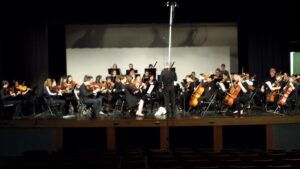 The Junior Orchestra offers newer string players their first chance to play together in a real orchestra. The members need to play at RCM Grade 2 or Suzuki books 2 or 3 level. Rehearsals are Saturdays 11:45am-1:15pm.
The Intermediate Orchestra concentrates on Baroque masters such as Vivaldi, early Mozart along with modern works. The music is challenging and fun. Instrumentalists need the equivalent of RCM Grade 5 or Suzuki book 5 – 6. Rehearsals are Saturdays 11:30am-1:15pm.
The Senior Orchestra performs difficult symphonies by composers such as Haydn, Mozart, Schubert, Schumann, and Beethoven. To qualify, players must be well into Grade 8 RCM level studies or above. Rehearsals are Saturdays 2:00-4:30pm.
Please note: Promotions between orchestras are at the discretion of the respective conductors and is based upon demonstrated playing ability, not the grade level of current music study.
Performance/Rehearsal/Audition Information

Performance Dates 3:00PM for 2022-23 Season: November 20, March 5, June 11, 2023
Tickets (Live performances): $20/15 (senior/youth) ONLY available at the door for purchase
Rehearsal Schedules (download): 
MYO-Fall-Schedule-2022
MYO-Winter-Schedule-2022-23
MYO-Spring-Schedule-2023
Audition Information:
No availability as at March 25, 2023
Wait list till Spring term: ALL ORCHESTRAS
We will accept names of individuals, but will no longer be able to offer any placements, unless current players leave.
Held: Saturday September 10, 2022
Auditions (in-person) are at Mooredale House, 146 Crescent Road, M4W 1V2 and free parking is available. Auditions are 10 minutes, requiring a current piece to be performed by the player for the conductor and a sight reading passage. Our auditions are not designed to exclude players – we want to ensure placement in the correct orchestra.
To request an audition, please contact Christina Cavanagh at [email protected] or 647-988-2102. We require your child's name, age, instrument, music grade level/equivalent plus a parent name and contact information. Bookings and format will be confirmed the last week of August.
Musical Training
The orchestras are led by professional musicians who take a very personable, yet focused approach to their craft. They enjoy nurturing and nourishing young musical minds. This very special commendation from an orchestra member says it all!
"At Mooredale playing together as an orchestra is just the beginning. We cooperate, we experiment. Each week we try to reach beyond the notes to stimulate our curiosity, our creativity and our imaginations."

– Dr. William Rowson, past conductor
Intermediate and Senior orchestras
past Assistant conductor, VSO
conductor, Stratford Symphony